Finally there is a major non-surgical breakthrough for you or your loved ones diagnosed with scoliosis. The SpineCor Flexible scoliosis brace and our state of the art Scoliosis Specialists treatment centers offer adolescent scoliosis patients and adult scoliosis patients an excellent alternative to surgery and traditional rigid braces.
If you have been looking everywhere for an alternative to surgery and traditional hard braces, you owe it to yourself to contact us. Has been shown to
Allow people to enjoy a complete range of motion without restriction
Increase muscle tone in a corrected posture
Reduce or eliminate pain
Halt scoliosis before it gets worse
Improve spinal curve
Help eliminate the need for surgery
Be covered by some insurance plans
Flexible Bracing and Treatment of Scoliosis
Spinecor Scoliosis Brace is the first and only truly dynamic brace, which provides a progressive correction of Idiopathic Scoliosis from 15 degree Cobb angles and above. Traditional rigid braces are non-dynamic and create muscle atrophy.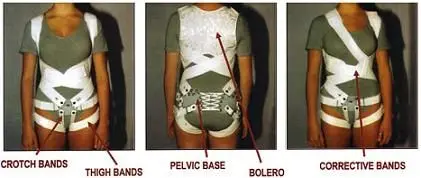 Spinecor is the only brace that preserves normal body movement and growth and allows normal activities of daily living. In fact, patients with the SpineCor brace are encouraged to be physically active while wearing the brace. The revolutionary Soft Flexible Scoliosis Brace has been proven to re-educate the muscles. It can reduce and stabilize both a child's scoliosis and an adult scoliosis
Featured on NBC TV News and Fox
Payment Options
Many Scoliosis patients put off treatments and procedures because they cannot afford to pay. Boston Scoliosis Specialists offer CareCredit payment plans as a convenient option to normal credit cards, cash or checks.
CareCredit allows the patient to pay over time often without incurring interest charges instead of a lump sum prior to treatment. Removing the cost barrier allows Scoliosis Specialists to focus on optimal scoliosis treatment for the patient.


This case study follows the treatment of 47 year old female with a Degenerative De-Novo Adult scoliosis. Her pain prior to treatment was rated as an average daily pain of 8/10. In the SpineCor brace her pain was 3/10. In the SpineCor Pain Relief Brace x-rays show an improvement of 7 degrees to a 33 degree curve. Her pain relief and spinal correction have been maintained for over 2 years by using the SpineCor Pain Relief Brace on a daily basis.
Click Here for Spinecor Adult Bracing
Click Here for Spinecor Adult Bracing
This case study follows the treatment of an adolescent female patient with idiopathic scoliosis whose initial presentation at 9.5 years and Risser 0 was with a 36: right thoracic curve. After evaluation of the patient's radiological, clinical and postural data, she was classified as a Right Thoracic Type 1 according to the SpineCor classification. Patient's postural correction and Cobb angle reduction have been maintained three years post bracing. SpineCor wearing ceased after 15 months.
Click Here for Spinecor Adolescent Bracing