Do you suffer from a herniated or bulging disc, degenerative disc disease, stenosis or arthritis in the spine? Experiencing numbness, tingling or pain?
Our nonsurgical spinal decompression program may be right for you?
What is Nonsurgical Spinal Decompression Therapy?
Our nonsurgical spinal decompression program is a safe, nonsurgical, drug free treatment program for patients who suffer from one or several of the conditions to follow: chronic neck or back pain as a result of herniated or bulging spinal discs, degenerative disc disease, stenosis, degenerative joint disease of the spine (spinal arthritis) and other degenerative conditions. These problems can cause one several symptoms: numbness, tingling, pain, weakness, balance problems and bowel or bladder issues. Nonsurgical spinal decompression therapy slowly and gently stretches and lengthens the spine and releases pressure through computerized repetitive movements of the decompression table. The decompression equipment stretches and releases, resulting in a negative pressure change within the intervertebral disc, nearby soft tissue and spinal joints. The reduction in pressure inside the disc allows the disc bulge or herniation along with the nutrients essential for healing of the disc material to be pulled back into the disc. Rehydration to the disc and structures creates a physiological change which can decrease pain, decrease inflammation and decrease chronic and constant irritation allowing the body's healing mechanism to do it's job. Patients typically experience significant improvement within 25 to 35 treatments. Research shows continued improvement is seen up to 4 years following the spinal decompression program.
Our nonsurgical spinal decompression program is appropriate for:
Bulging, herniated or degenerative discs

Sciatica

Facet Syndrome

Pinched nerves

Stenosis

Spondylosis

Failed back surgery

Pinched nerves

Numbness, tingling in hands, feet, arms, legs

Unresolved chronic neck or back pain
How can nonsurgical spinal decompression therapy help you?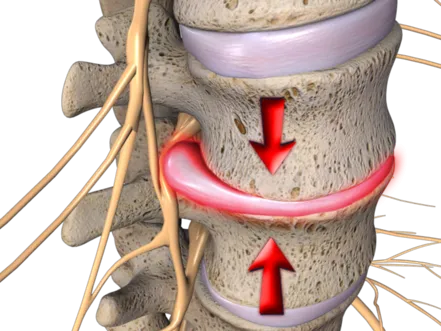 As the herniated or bulging disc moves out of place, it can compress the nearby structures, including nerves. The compression can block nerve impulses (messages) from the spinal cord and brain (central nervous system) leading to neurological damage and symptoms including pain. As long as the compression continues, the structures (joints, discs and nerves) are not likely to heal and will likely result in a decrease in one's health and quality of life.

Nonsurgical spinal decompression therapy induces negative intradiscal pressure providing room for the damaged disc to retract and reposition itself. When this occurs, the pressure is relieved on the surrounding structures, tissue and spinal nerves. Reversing the effects of spinal compression can increase circulation which facilitates the influx of nutrients, oxygen and fluids (proteoglycans) into the disc which again supports the body's healing process. Our spinal decompression program helps the body's built-in natural physiological self-healing mechanism to re-establish itself. All without drugs, injections or surgery. This procedure is 100% noninvasive.
Our nonsurgical spinal decompression program typically includes the following: (Some therapies may not be appropriate for all candidates. The doctor will prescribe a program that is most appropriate for your condition.)
Examination: Orthopedic / Neurological

Xray, CT, MRI Analysis

Nonsurgical Spinal Decompression Therapy

Hako-Med Horizontal Frequency Modulation Therapy

Laser Therapy

ArpWave Therapy

Rehabilitation

Spinal Adjustments

Home Care: LLLT Therapy / Neuro and Muscle Stimulator

Nutrition

Maintenance Care
Clinical Studies and Publications
Clinical Director Dunsky Rehabilitation and Spine Center, PC and Boston Scoliosis
Graduated from Life Chiropractic University Marietta Ga 1998
Certified SpineCor Bracing Practitioner with SpineCor
Licensed SpineCor Bracing Practitioner with Scoliosis Specialists for Adolescents and Adults
Certified in Physiological Therapeutics - New York Chiropractic College
Certified in the New Era in Whiplash and Spinal Trauma - Life Chiro College West
Certified in Electrodiagnostics - University of Bridgeport Chiropractic College
Past Licensed Affiliate Testing Center for Premier Medical Group
Past Healthcare Consultant - Advanced Fitness Components, LLC
International Speaker & Trainer: Anti-Aging, Toxicity, Deficiency, Weight Loss and Stress (TDOS Syndrome), Telomeres: Aging & Disease, Peripheral Neuropathy, Scoliosis, GUT Health, Weight Loss, ArpwaveTherapy, Non-surgical Spinal Decompression
Speaker: Anti-Aging Conference London, England 2013
Speaker: Traditional Medicine Conference Amsterdam, Netherlands 2016
Speaker: Anti-Aging Conference London, England 2017
Speaker: Internal Medicine Conference / Breast Cancer Conference Miami 2018
Speaker: Keynote Holistic Medicine / International Food & Nutrition Conference Vancouver, CAN 2018
Co-Founder www.drjoshandlisa.com (2015)
President and Founder of the New England Spinal Decompression Assoc., LLC (2006)
President and Founder of the American Spinal Decompression Assoc., LLC (2006)
President of The American Cancer Society, S.M. Chap. (2003-2005)
Executive Vice President of The American Cancer Society, S.M. Chap. (2001-2003)
Beth Israel Deaconess Medical Centers Leadership Board 2009-2011
Dr Dunsky has been successfully treating patients with Spinal Decompression Therapy for many years. He is the past president and co-founder of the New England Spinal Decompression Association and the American Spinal Decompression Association. He has been educating doctors and patients around the country since 2006 on this advanced technology that has been giving people their life back. Dr Dunsky has helped thousands of patients improve the quality of their life through a nonsurgical and noninvasive therapy called Spinal Decompression Therapy.

Not everyone is a candidate for Spinal Decompression Program. Dr Dunsky will determine if you are a candidate for this advanced technology by conducting a complete medical history, he will review your MRI or prescribe one if necessary, and he will conduct a physical exam that includes series of neurological and orthopedic tests. Once he completes his evaluation, he will give you a prognosis with the therapy if you are a candidate.
Go to the, "Do I Qualify," tab at the top of the website and see if you should schedule a consultation with Dr Dunsky in order to see if this program is right for you. Or Call Today 508.309.7475
Call Now To Schedule An Appointment | 508.309.7475